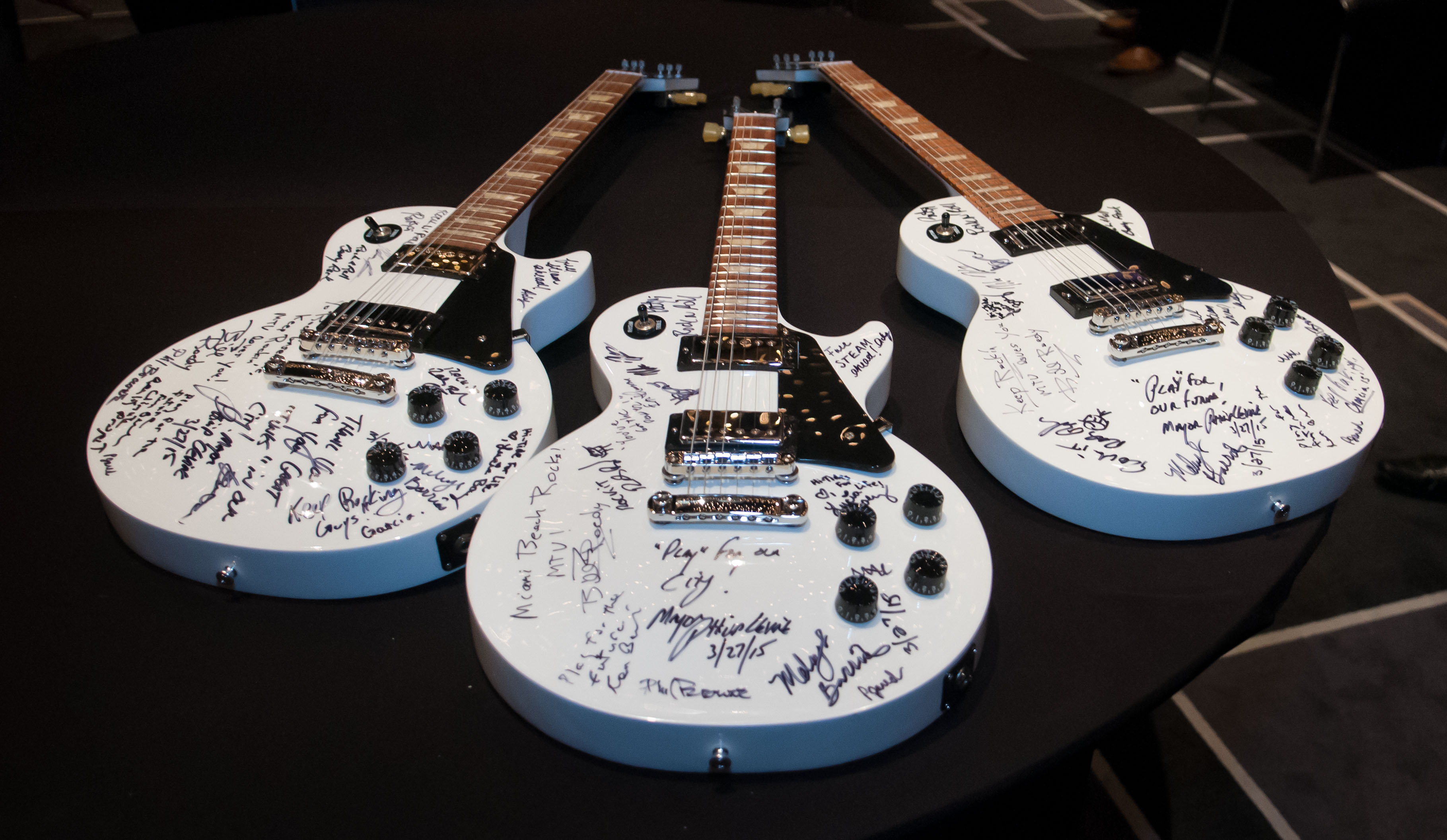 Gibson Guitar Donation to the Arts
The City of Miami Beach and the Celebration of the Sea Foundation would like to thank Gibson for their generous support of our students and STREAM (Science, Technology, Resiliency, Engineering, Arts and Math) programs in the Miami Beach School System.
During its week-long Centennial Celebration at the end of March 2015, the City of Miami Beach hosted "Rising Above," a Community Resiliency Summit and Awards Luncheon, hosted by W Hotel South Beach. The summit was co-produced by Patxi Pastor, Founder & CEO of The Celebration of the Sea Foundation who also served as Chief Marketing Officer for the Miami Beach Centennial Celebration. The full-day event focused on current and future strategies being used by the City of Miami Beach to mitigate and adapt to rising sea levels and how these solutions can be used by other cities around the world.
The Summit featured discussions by Miami Beach's Mayor Philip Levine, Al Roker, Host of NBC's Today Show and Miami Beach City Manager, Jimmy Morales. Discussion panels included members of the Miami Beach Chamber of Commerce, Sea Level Rise Task Force, The Greater Miami & The Beaches Hotel Association, the Sustainable Hospitality Council and Coca-Cola's Sustainability Program.
A major segment of the program focused on merging the study and practice of the arts into STEM initiatives (Science, Technology, Engineering, Math) in our nation-wide public education system. World Ocean Watch (WOW), a groundbreaking STEAM pilot program, is being implemented into Miami Beach schools and was presented by the program's co-founder, Dr. Barry Rock. Dr. Rock is a former Senior Scientist from Al Gore's "GLOBE Program," that has been a well-known STEM program for the past 20 years, in 112 countries, 26,000 schools, reaching 1.5 million participants to date.
Gibson Guitars gave the integration of the arts into STEAM a strong push by generously donating three beautiful new "Les Paul" model electric guitars to the Rock Ensemble Music Program at Miami Beach Senior High School. These guitars have stood the test of time alongside countless styles of music, reaching back to the early 1900's. Mayor Philip Levine and Bill Roedy, Founder and Chairman of MTV, were among a large group of other celebrity guests who personally signed and presented these guitars to the eager and excited Rock Ensemble students, encouraging them to continue following their passions for music and the arts for the rest of their live