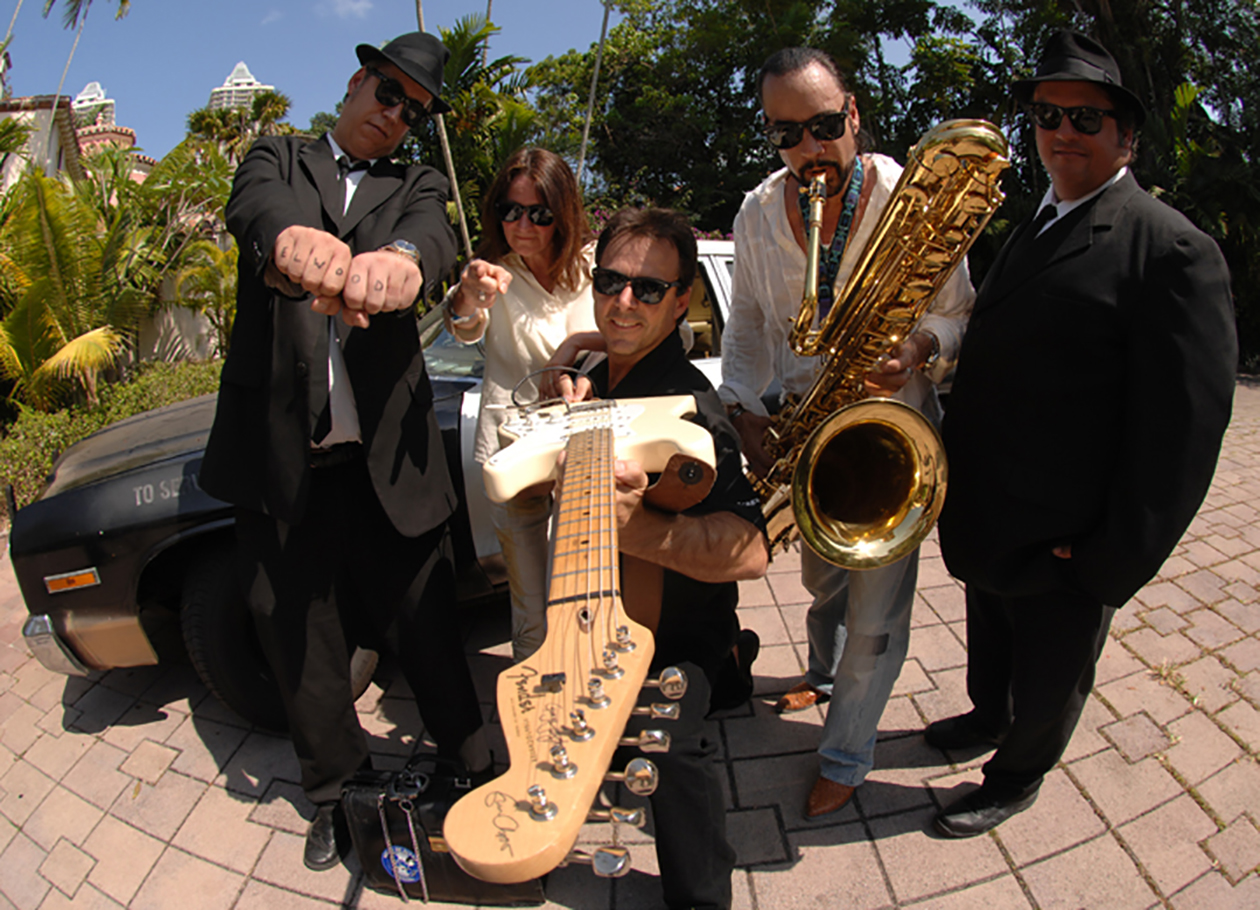 Celebration of the Sea Music & Film Festival 2008
Judy Belushi & Legendary Blues Brothers Perform
Special Ocean Side Miami Beach Concert
The Celebration of the Sea Foundation teamed up with The Setai Hotel on Saturday, April 26, 2008 to hold a VIP dinner and ocean-side concert featuring the legendary Blues Brothers and other surprise celebrity guests. The VIP dinner was hosted by the world-renowned Setai Hotel and was followed by an ocean-side concert on Miami Beach between 20th and 22nd streets.
Both events included special presentations by honorary guest Judy Belushi, the widow of acclaimed Saturday Night Live Star and Blues Brothers co-creator John Belushi. Mrs. Belushi was joined by both Blues Brothers, Jake and Elwood Blues whose recent live concert performances have been featured at NASCAR's Daytona 500, The House of Blues, The Capital One Half Time Show, The New York Stock Exchange and Universal Studios. They arrived in the Blues Mobile that was featured in their Universal Pictures blockbuster movie The Blues Brothers, and performed an exclusive live ocean-side concert on Miami Beach. The special performance featured the Blues Brothers greatest hits from the Atlantic Records multi-platinum album Briefcase Full Of Blues.
"I'm thrilled to be working with The Celebration of the Sea Foundation and helping host such an amazing concert on Miami Beach," said Judy Belushi. "This event has brought so much excitement and joy to the community and we're delighted to be playing a part of it with the celebrity star power of our all star band performing the beloved songs of the Blues Brothers for everyone."
"We were so grateful to Judy Belushi for helping us bring the magic of the Blues Brothers to Miami Beach," said Founder and CEO of The Celebration of the Sea Foundation, Patxi Pastor. "We know producing these kinds of concerts for the community creates amazing world-class events that our city can be proud of. This kick-off concert and VIP dinner are setting the stage for many more mega-events we are already planning for the future."
A previous Celebration of the Sea Music and Film Festival held in 2005 in Key Largo, Florida, was featured in Rolling Stone magazine. The concert was attended by over 10,000 music fans and included special performances by Aerosmith Front Man Steven Tyler, the "Father of Rock And Roll" Chuck Berry , Jeff "Skunk" Baxter of the Doobie Brothers and Steely Dan, Barry Goudreau and Fran Sheehan, original members of Boston, rap pioneer DMC, a number of top supermodels inlcuding Frederique van der Wal , Carol Alt and Sabrina Barnett for a spectacular ocean-side fashion show featuring Harley Davidson apparel.
A book signing hosted by widow Judy Belushi, featuring her book, Belushi, was held prior to the concert at Starbucks Hear New Music Coffeehouse located at 601 Lincoln Road, Miami Beach. She wrote the book as a telling publication about the life of her legendary husband, John Belushi, which includes rare photos and interviews with friends, family and associates portraying the life of this beloved comedian and superstar from the hit TV show Saturday Night Live. Citywide appearances of the Blues Brothers, Jake and Elwood Blues driving the Blues Mobile, were held at surprise locations in Miami Beach throughout the day and culminated on Lincoln Road at Starbucks for an exclusive book signing
VIP Setai Dinner & Blues Brothers Oceanside Concert with Judy Belushi
Saturday, April 26th, 2008
A VIP Cocktail Reception was held in an ocean-side VIP tent on the beach, and was followed by a fashion show at 8:30, featuring Ferragamo, Nicole de Carle and Celebration of the Sea Clothing Lines. A presentation was made by Judy Belushi following the fashion show to kick off The Blues Brothers public ocean side concert which featured a special guest performance by Rock & Roll Hall of Fame inductee and Bob Seger's Silver Bullet Band co-founder sax man Alto Reed. The concert was followed by a VIP dinner at the Setai. Additionally, a mini-auction was held during the VIP Setai dinner featuring official Blues Brothers and Belushi Estate memorabilia donated by Judy Belushi-Pisano as well as items from Tiffany's. A Celebration of the Sea Foundation Beach Party was simultaneously held on the beach following the concert with a DJ in their VIP Tent.