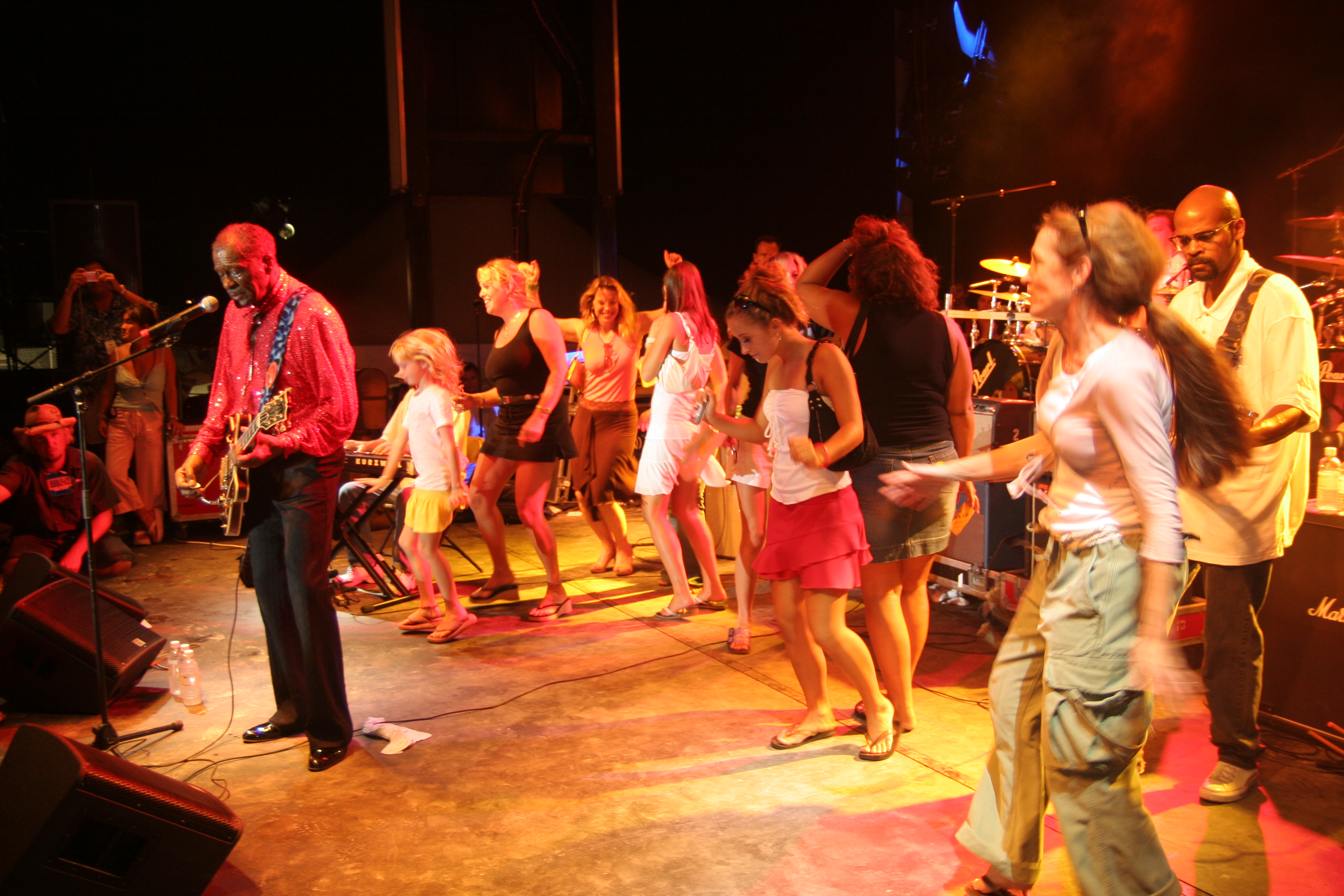 Celebration of the Sea Music & Film Festival 2005
CELEBRATION OF THE SEA FOUNDATION'S OCEAN-SIDE FESTIVAL ROCKS KEY LARGO FLORIDA
Music Festival Featuring Aerosmith Front Man Steven Tyler, "Father of Rock and Roll" Chuck Berry, DMC, an All Star Band and Top Supermodels Showcased in a Spectacular Harley Davidson Fashion Show.
Rock stars, super models and Harley Davidson motorcycles were all part of the mix for The Celebration of the Sea Foundation's 2005 music and film festival, which was attended by over 10,000 fans and dedicated to raising awareness of ocean conservation. The star-studded extravaganza took place on Saturday, July 30, 2005 from Noon to 11:00 p.m. at Rowell's Marina, mile marker 104.5 in Key Largo, Florida. In this spectacular ocean-side setting, revelers rocked to headline performances including a special appearance by Aerosmith front man Steven Tyler, "Father of Rock and Roll" the legendary Chuck Berry, and leading pioneer rapper DMC, formerly of Run DMC. True to form a show stopping entrance, by Steven Tyler was made as he arrived riding a Harley Davidson motorcycle up to the stage where he was met by supermodel Sabrina Barnett, and performed the pivotal hit "Walk this Way," with DMC, while additional Supermodels including Victoria's Secret's own Frederique van der Wal, Carol Alt and many more cavorted onto the fashion catwalk attached to the center of the stage modeling Harley Davidson fashion apparel.
Other musical performances included Barry Goudreau and Fran Sheehan, original members of Boston, and Jeff "Skunk" Baxter of the Doobie Brothers and Steely Dan performing with festival creator and Executive Producer Patxi Pastor in addition to scores of other prominent musicians who also took center stage throughout the day. Later that evening, a spectacular fireworks show light up the bay to the concluded the concert and final set performed by Chuck Berry.
The stars arrived early to support the Celebration of the Sea Foundation, participating in an underwater press conference, as well as attending and providing impromptu performances at a creative black tie fundraiser for Island Dolphin Care (IDC). The festivities took place at IDC, a non-profit facility that provides dolphin therapy to children with critical illnesses, disabilities and special needs from all over the world.
"We're delighted to be working with the Key's community to create this amazing signature event for the state of Florida," said Celebration of the Sea's Founder and CEO, Patxi Pastor, who is the event's creator and Executive Producer. "With the support of our amzing Keys community along with all of our generous sponsors, we were able to attract legendary musical acts, supermodels and other celebrities to make this a truly world-class event that we will continue to produce on an ongoing basis."
Renowned seven time Emmy award-winning underwater cameraman and long-time Key Largo resident, Frazier Nivens, echoed Pastor's sentiment. "Our community has never been able to produce an event of this scale before in the Keys so we are thrilled and honored to host such an extraordinary festival that is dedicated to the preservation of our oceans, and brings so much excitement, synergy, and commerce to our community."
The gates for the event opened at noon on Saturday, July 30, 2005 at the marina; where the festival atmosphere began with educational and fun activities including an "Ocean Discovery Tent" featuring touch tanks and family activities centering on marine animals and the ecosystems they inhabit. For hands-on types, a traveling 41-foot by 21-foot, four-foot deep, 25,000 gallon Giant Dive Pool was provided by DEMA (The Dive Equipment Marketing Association), which also served as one of the event sponsors. Dressing rooms, towels, and all the necessary diving equipment were on-hand within the facility for those who sampled the free diving experiences, which was staffed by local professional diving instructors.
The Celebration of the Sea Foundation gratefully acknowledges the generous support of its major sponsors, including Harley Davidson, Comcast, Clear Channel, The Key Largo Chamber of Commerce, Florida Keys Tourist Development Council, Scuba Radio, The Scuba Tour, DEMA (Diving Equipment Marketing Association), Mariner's Club Key Largo, World of Boating, NAUI Worldwide, PADI (Professional Association of Dive Instructors), World Water Sports and The Sheraton Beach Resort Key Largo.