CELEBRATION OF THE SEA FOUNDATION
The Celebration of the Sea Foundation works to ENGAGE, EDUCATE and INSPIRE people around the world to protect the ocean and the world's natural resources. A specific focus of all our initiatives is to develop resilient communities and promote STREAM (Science, Technology, Resiliency, Engineering, Arts & Math) education and career paths. "Never doubt that a small group of thoughtful, committed citizens can change the world; indeed, it's the only thing that ever has." – Margaret Mead
PLASTIC POLLUTION & BEACH CLEAN UPS – Over 100 million marine mammals are killed each year as a result of plastic pollution. Please join us in helping to remove plastic every day from our marine environment. To be part of the solution and learn more about how to support these efforts in South Florida, please visit and join the amazing work being done through the outstanding leadership of Barry Levy and his team at Fort Lauderdale Beach Sweep. 
Celebration of the Sea Foundation Donates to Guy Harvey Ocean Foundation
Celebration of the Sea Foundation Donates $13,000 in Affiliation with Audacy and REVERB to Create New Whale Shark Curriculum with the Guy Harvey Ocean Foundation (GHOF). Funds were raised through the sale of reusable water bottles at Audacy Beach Festival. The funds will be directed towards the creation and implementation of a new whale shark curriculum which is initially slated for use by US and Mexican students and teachers and is now being produced in collaboration between GHOF and the Celebration of the Sea Foundation. 
Audacy Beach Festival

Celebration of the Sea Foundation & Guy Harvey Ocean Foundation Partner with Audacy and REVERB to Promote Ocean Conservation and Sustainability at Audacy Beach Festival. Proceeds from co-branded reusable water bottles sold at the festival will benefit ocean conservation and educational initiatives through the Celebration of the Sea and Guy Harvey Ocean Foundation. Through its year-round 1Thing initiative, Audacy incentivizes people to make simple changes in their daily habits to protect the environment. By combining these actions, Audacy hopes to make a meaningful positive impact on our planet's ecosystem for future generations.
Riptide Music Festival
The Celebration of the Sea Foundation is pleased to continue to serve as Entercom Communications' official charity for its annual Riptide Music Festival each year on Fort Lauderdale beach. Attended by over 30,000 people annually the event has become one of South Florida's favorite signature events. Each year the Celebration of the Sea's "Eco-Discovery Zone" features leading envirnmental and educational organizations such as Nova Southeastern University (NSU) Guy Harvey Oceanographic Center, Florida Atlantic University's Harbor Branch Oceanographic Institute, Pompano Beach Shipwreck Park and many more.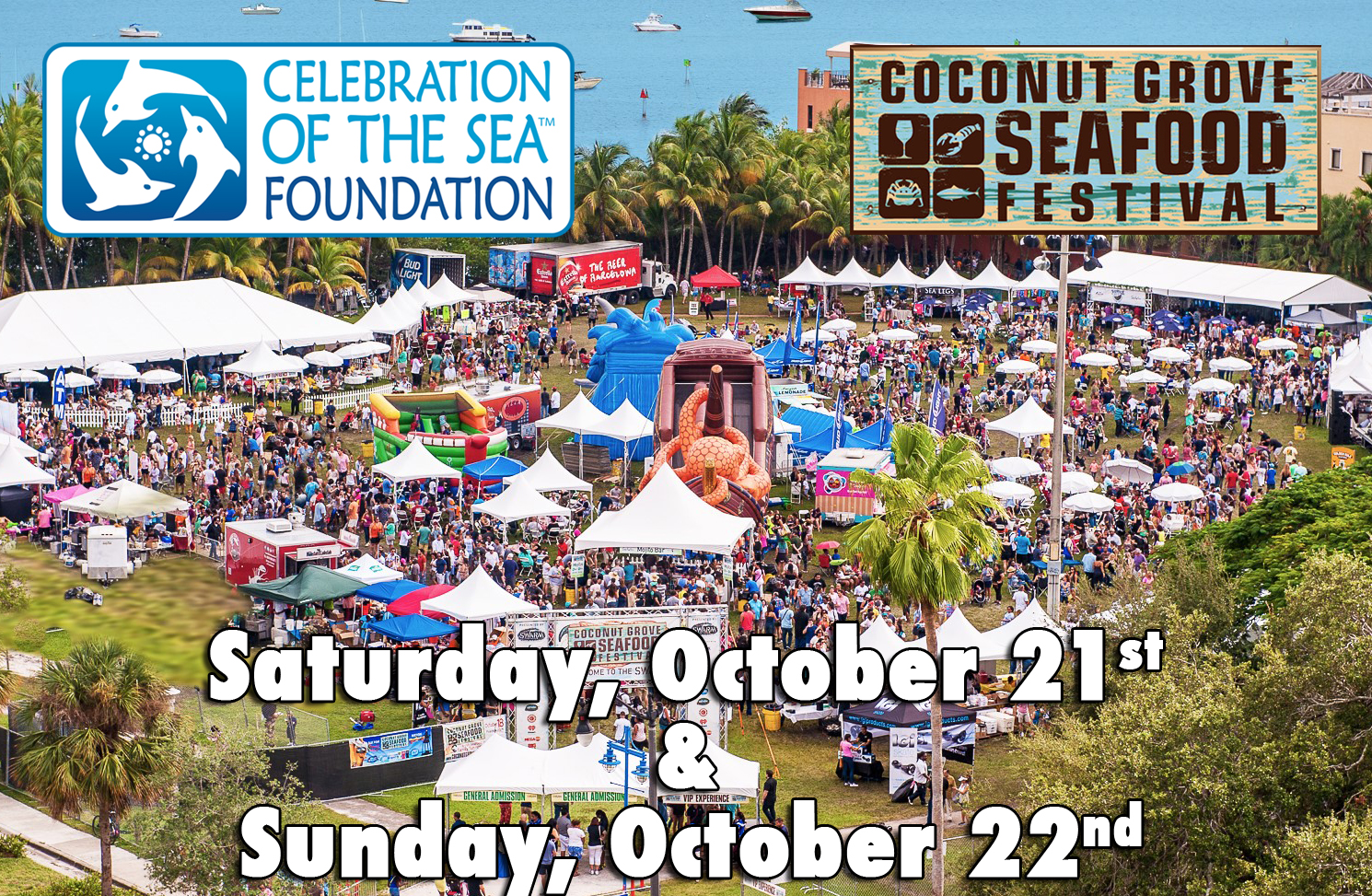 Miami's Iconic Marine Stadium
Miami's iconic Miami Marine Stadium plays host each year to the annual Celebration of the Sea "Eco-Discovery Zone" featuring leading ocean conservation and educational organizations such as The Wyland Foundation, Florida International University, MAST@FIU, University of Miami, the Medina Aquarius Program Underwater Habitat, Florida Atlantic University, DEMA (Diving Equipment Manufacturers Association), History of Diving Museaum, Southeast Florida Coral Reef Initiative and many more.
Internationally Renowned Marine Artist Wyland Receives Celebration of the Sea Lifetime Achievement Award
Celebration of the Sea Founder & CEO Patxi Pastor presents internationally renowned marine artist Wyland the Foundation's Lifetime Achievement Award at Miami's iconic Marine Stadium.
KeysStrong.Org Florida Keys Relief
The Celebration of the Sea Foundation along with our good friends at Entercom Communications send our thoughts and prayers to all the families and Key's communities which have been effected by the devastation of hurricane Irma. We are honored to serve as the official charity of Entercom's Riptide Music Festival on December 2nd and 3rd on Fort Lauderdale Beach. We are currently helping to coordinate major on-going long term relief efforts with civic leaders from the Florida Keys and have been helping the Keys community establish the KeysStrong.org emergency relief effort to directly support the children and families who have been most heavily impacted by hurricane Irma. KeysStrong.org has been included as a major part of our co-productions of both the Riptide Music Festival as well as the Coconut Grove Seafood Festival which was held at Miami's Marine Stadium on October 21st & 22nd. Entercom's amazing radio station network and on-air personalities have already begun to be announce the KeysStrong.org relief efforts with live coverage from the Keys and all of this will continue on an ongoing basis as a primary focus of all of our activities on our "Road to Riptide". Ongoing and updated information about how you can help with KeysStrong.org relief initiatives will continue to be posted here as well as broadcast on an ongoing basis on 104.3 The Shark, 102.7 The Beach, 101.5 Lite FM and 790 The Ticket. For information please visit KeysStrong.org.
CORPORATE PARTNERS & SPONSORS