CELEBRATION OF THE SEA FOUNDATION
The Celebration of the Sea Foundation works to ENGAGE, EDUCATE and INSPIRE people around the world to protect the ocean and the world's natural resources. A specific focus of all our initiatives is to develop resilient communities and promote STREAM (Science, Technology, Recreation, Engineering, Arts & Music) education and career paths.
KeysStrong.Org Florida Keys Relief
The Celebration of the Sea Foundation along with our good friends at Entercom Communications send our thoughts and prayers to all the families and Key's communities which have been effected by the devastation of hurricane Irma. We are honored to serve as the official charity of Entercom's Riptide Music Festival on December 2nd and 3rd on Fort Lauderdale Beach. We are currently helping to coordinate major on-going long term relief efforts with civic leaders from the Florida Keys and have been helping the Keys community establish the KeysStrong.org emergency relief effort to directly support the children and families who have been most heavily impacted by hurricane Irma. KeysStrong.org has been included as a major part of our co-productions of both the Riptide Music Festival as well as the Coconut Grove Seafood Festival which was held at Miami's Marine Stadium on October 21st & 22nd. Entercom's amazing radio station network and on-air personalities have already begun to be announce the KeysStrong.org relief efforts with live coverage from the Keys and all of this will continue on an ongoing basis as a primary focus of all of our activities on our "Road to Riptide". Ongoing and updated information about how you can help with KeysStrong.org relief initiatives will continue to be posted here as well as broadcast on an ongoing basis on 104.3 The Shark, 102.7 The Beach, 101.5 Lite FM and 790 The Ticket. For information please visit KeysStrong.org.
Road to Riptide
Entercom Communications has selected Celebration of the Sea Foundation as the official charity of the Riptide Music Festival on December 2nd, & 3rd. Attended by over 30,000 people each year on Fort Lauderdale Beach the event is South Florida's largest alternative and classic hits music festival. Headline acts include K.C. & The Sunshine Band, Foreigner's Lou Gramm, Salt-N-Pepa, Morris Day & The Time, Loverboy, Cage The Elephant, Weezer, and many more.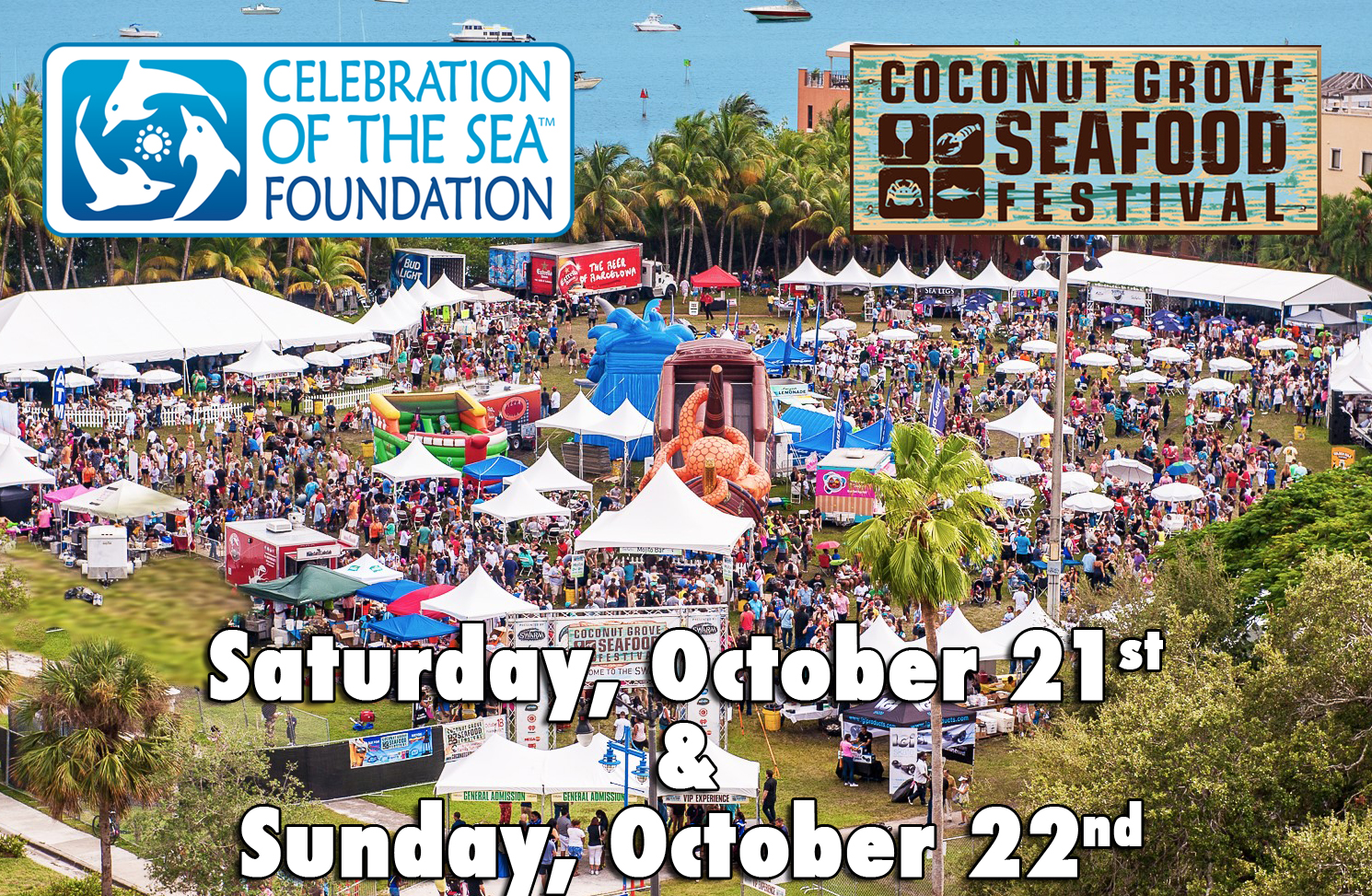 Coconut Grove Seafood Festival
Stone Crab Season kicked off at the iconic Miami Marine Stadium with the Celebration of the Sea's "Eco-Discovery Zone", leading seafood vendors, live Caribbean beats, mojito bars, and more while promoting awareness for KeysStrong.org Florida Keys Relief. The two-day event provided fresh seafood all-day-long with over 25 gourmet seafood partners.
Internationally Renowned Marine Artist Wyland Receives Celebration of the Sea Lifetime Acheivement Award
Celebration of the Sea Founder & CEO Patxi Pastor presents internationally renowned marine artist Wyland the Foundation's Lifetime Achievement Award at Miami's iconic Marine Stadium.
CORPORATE PARTNERS & SPONSORS